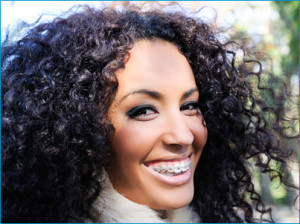 Why is treatment so important?
Misaligned or crooked teeth are difficult to clean.  A bite that is off can cause abnormal wear of tooth surfaces, difficulty in chewing and/or speaking, and increase the stress on the gum tissue and supporting bone. It is critical to take advantage of growth spurts during treatment for fast results, and in other instances treatment is delayed until after growth has occurred.  So, consulting with an orthodontic specialized who went to school additional years beyond dental school is important.  Out of every 100 dental students only 6 are accepted into an orthodontic program.  If treatment is not performed, orthodontic problems mentioned may become worse and require additional dental care at a later time.
What If I have an orthodontic emergency?
Discomfort with orthodontic treatment
After your braces are on, it is not uncommon to feel slight discomfort from the movement of teeth.  You may take whatever headache medicine works for you (acetaminophen or other non-aspirin pain reliever).  Aspirin should not be used to avoid increased bleeding.  A heating pad may reduce the soreness in your jaw. Also, you can rinse you mouth vigorously with warm salt water (8oz glass of warm water with a teaspoon of salt).  A small bead of wax can be placed over your wire or bracket irritation.
Wire Irritations
It is best to examine the wire and see if it has shifted to one side.  If so, you can use a clean pencil eraser or cotton swab to move the wire back around. Feel free to contact the office immediately if you are unable to gain relief. 
Broken Bracket
Please call when a bracket is loosened.  We consider a bracket off in the front of your mouth a more urgent problem.  If the bracket is on the side of your mouth, it is possible to refit the bracket within a few days.
A lost separator/spacer
Call our office to schedule a time for a separator/spacer to be replaced.  Separator loss is nothing to worry much about.  Sometimes you can come five minutes before your next appointment to get it replaced. 
What should I do in the case of a true emergency?
Call our office as soon as possible if you break or loosen any of your appliances. Please allow us to create a time to see you.  If you have a regular appointment scheduled, call us if you need an appliance repaired during this visit.
Should I keep my regularly scheduled dental cleaning appointments?
Yes, the best way to take special care of your braces, teeth and gum tissues is to keep up your regular cleaning appointment.  Brushing and flossing daily will help prevent dental decay and white spot lesions on your teeth.